Cream and Shell Quarry
Welcome to Continental Cream Quarries
Continental Cream Quarries, LLC opened in 2009, reestablishing the Armadillo Quarry as the prime supply for Texas "Cordova" Cream and "Cordova" Shell to the Limestone Industry.
Historic 100 year old central Texas limestone quarry re-opens.
….This quarry is unique in this area due to its history and the quality of the raw material. Limestone must be consistent and available in depth to produce large blocks required for elements such as columns, balustrade and surrounds.
Continental Cream Quarries will now be added to the short list of quarries producing Cream and Shell limestone. Other top grade limestone quarries produce Lueders, and West Texas Cream among others giving the building industry additional resources for their next Cut Limestone projects.
---
A producer of custom limestone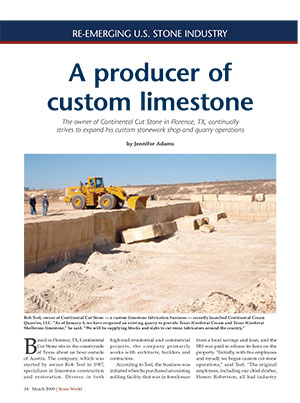 ---